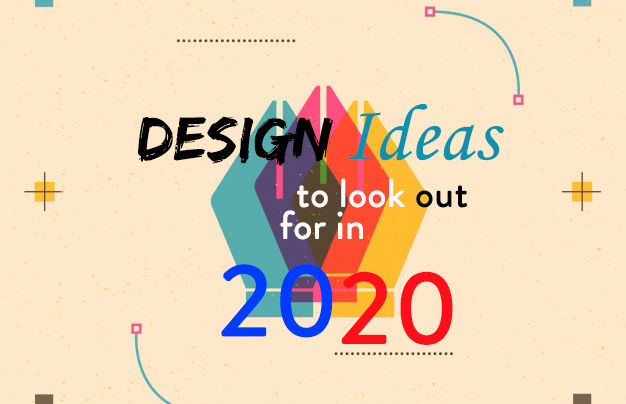 Design ideas to look out for in 2020
Graphic designing is a field of deep admiration. It impacts the businesses greatly. From logos to websites, flyers and visiting cards, it's the creative blend of colors, ideas, and technology that attracts the audiences.
With the dawn of the new decade, graphic design is poised to reach new heights. Designers will define the era will bold colors, mind-bending gradients, and futuristic compositions. 2020 will bring innovative typography, 3D realism, genuine photos, lines and shapes, and creative illustrations. More of line arts, isometric illustrations, and earthly colors will be seen. Below are some of the design ideas that are expected to go trending in 2020:
1. Genuine, Neutral Stock Photos and image & text masking
2020 will bring a lot of muted landscapes and genuine portraits. It creates a realistic look. When lively images are blended with text, a modern look is depicted. This technique is called text masking. Audiences love the mysterious and minimalist look and the unrevealed images create curiosity.
2. Dystopian aesthetic
With the increase in popularity of shows like 'Black Mirror' and 'Westworld', dystopia is creating a buzz all over the world. Dystopia means a fictional society or world in the future after an apocalypse. Widely used to attract younger audiences, this style gets viewers to pause and reexamine the world around them piquing the interest.
3. Hyper-pastiche
Merging vintage designs into modern designs is trending. Designers are using different eras like the Victorian era, medieval era, art deco and many of the past art styles for creating a collage. This vintage-inspired look is redefining digital aesthetics by eliminating the line between analog and digital. Blending the past and the future makes the design intriguing.
4. Continuous animation sequences
Brands are coming to life with the help of animation. Micro-interactions and explanatory motion graphics is going to be in trend in 2020. Companies who believe in taking their customers on a journey and making them feel as though they are flying, the animation is their solution. Dynamic transitions and animations heighten immersion and bring a sense of magic with seamless transitions.
5. 3D depth and realism
2019 was all about 3D elements and it looks like it is going to stay in 2020. 3D graphic design compositions captivate the audiences. And when blended with realistic photos and 2-D objects, the designs pop out of the screen mesmerizing the audiences.
6. Typography craze
Heavy fonts are already trending in the world of graphic design. Lettering and heavy fonts are everywhere; Logos, Posters, web designs, and package designs to create contrast and hierarchy in the designs. Maxi typography is also in fashion and in 2020, it sure is going to advance further. Artistic typography including beautiful flowers, geometric shapes, and other creative elements bring out the best of letters.
7. Line art and flowing shapes
Outline typography has been making an impact since the last 2 years and in 2020, it will become a big trend. Mixed with animation, line art conveys ideas and concepts with ease. It is a schematic and simplified form of illustration style. Flowing shapes feel a lot more natural as not many right angles or perfect shapes are found in nature. This makes them more approachable and genuine.
8. Illustrations
Simplified illustrations convey the message easily. Sketchy and childish illustrations create a unique style that attracts audiences. 2020 is also all about motion so animated illustrations will go big.
These trends are diverse and electrifying. 2020 will bring disparate elements together and our stellar Graphic Design Services are ready to explore the trends. The MMIT is a one-stop solution to all your graphical needs like logo designing, flyers, posters, websites, etc.