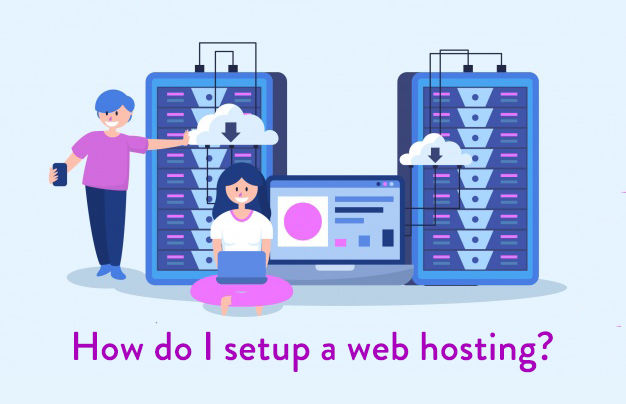 How do I setup a web hosting?
A web hosting service provider helps your site- up and running smoothly 24/7. Interrupted availability may cause you to lose not only sales but also customers who will leave your website after a negative experience. They may never come back. Hence, it is crucial to have the best web hosting server in the competitive marketplace. In this blog, we will guide you to set up a convenient web hosting.
What is Web Hosting?
Web hosting is a technology that provides storage space for a website or an application or a web page on a server on the internet. It helps the website to be accessible to all the other computers connected to the internet. A web hosting service provider is a service provider that provides the required technology required for viewing websites on the internet. Website hosting is measured in the amount of disk space allocated on the server. If you have a lot of customer interaction at your website or your application like downloading files, you will need more web hosting transfer space.
Steps for setting up a web hosting server for your website or webpage or application:
It is very important to identify the best web hosting service provider. Understand the types of hosting options available and choose appropriately. There are 6 different types of hosting options to get your site on the web. Each of them has its benefits and shortcomings. They are as follows:
Shared hosting
In this type, you share a server with different users who are also running their websites from the same hardware. You get a specific portion of that physical server for your use.
Virtual private server (VPS) hosting
VPS hosting lies between shared hosting and dedicated hosting because it is suitable for users who need more control on their website but do not need a dedicated server.
Dedicated server hosting
As the name suggests, this type of hosting server gives you the most control as the server is exclusively rented by you. No one can share the server.
Cloud hosting
Cloud Computing is the newest trend in technology and is growing upward.
Managed hosting
Maintaining your server where the website is stored is a heavy task and hence so many web hosting service providers are also offering managing deals.
Colocation
Colocation means renting rack space from a data center. You have your server hardware and they provide power, cooling, physical security, etc.
Most of the hosting companies do not present domains for hosting, they ask the customers to bring their domain. They help the customers to purchase one if they need guidance. A domain name is the name or identity of the website which will be a part of the network address. DNS or Domain name system is a translation service that connects the IP addresses to domain names. Your domain name should be easy to pronounce, short, clear to understand, clear of trademarks, and represent your brand.
Choose a website design route
Content management systems are widely used for websites. Some of the well-known CMS are WordPress, Site core, etc. Hire the best website designing agency to design and code your websites for better results. Below are the three options that you can choose from:
Design Website Builder
Design by Content Management System
Design from Scratch
Well begun is half done! After the proper setup of web hosting, you can implement other strategies for your online business.
Hire The MMIT; the best web hosting service provider in Mumbai. From web hosting to managing your server, The MMIT has 8 years of experience in the field. We also provides website designing and development services along with Digital marketing services.