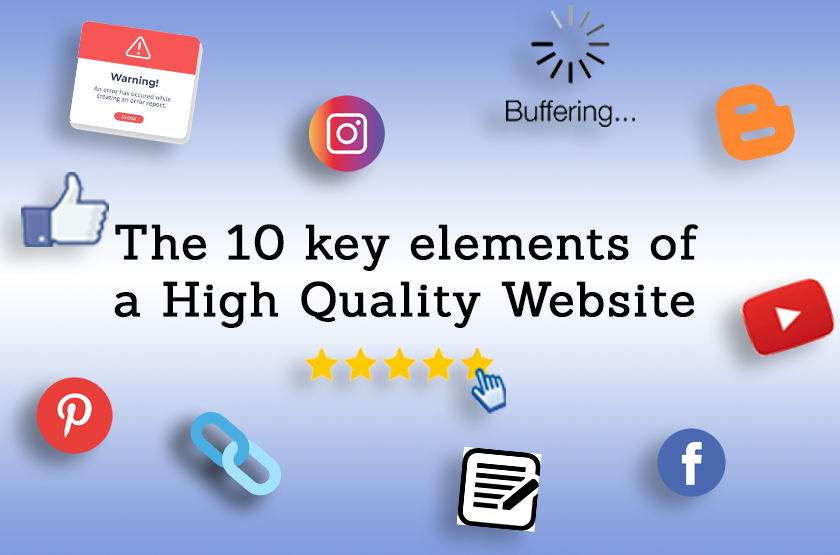 The 10 Key Elements of a High Quality Website
A website is how users see your business. The characteristics of your website must be top-notch to gain the trust of the users. Only high-quality websites have the potential to convert potential leads into clients.
But how do you make sure that your website has WHAT IT TAKES to attract and engage users? In this blog, we will give you 10 key elements which play a role in deciding the quality of your website.
1. Relevance and Content
With the advancements in the algorithms of Google and the introduction of the BERT update, the best thing one can do is to put content for users rather than for the search engines. As per SearchMetrics, Google's algorithm is capable of recognizing high-quality and relevant content and rewards it with higher rankings.
2. Content-Length
The top websites follow the rule of developing longer content. Blog post length can be determined using any of the two perspectives. They are as follows:
For Readers: An ideal blog post length from the perspective of a reader is 1600 words.
For SEO: If we develop content from SEO perspective then an ideal blog post length would be 2000-2450 words long.
But it is necessary to find a balance between SEO and user readability.
3. Grammar, Spellings, and Readability
If your website has errors like wrongfully put punctuation marks, grammatical errors and spelling mistakes then Google won't show your page in the higher rankings. Instead, if it finds too many errors, it would penalize you. For the readability, you should use shorter sentences, paragraphs and try to use more active sentences.
4. Images and Videos
Images and videos make your page more interactive and bring life to the content. Every page must include a few images. The quality of the images and the videos must be high. According to SearchMetrics, Google ranks web pages with images and videos expertly.
5. Social Media Shares
One of the first things to do after your website is launched is to make it visible on social media sites like Instagram, Facebook, LinkedIn, etc. And then put the social media buttons on the pages of your website. Your icons should be easily visible and must have call-to-action for people to share.
6. Internal and External Links
One of the things that readers love is a link to a valuable internal or external resource. Linking to external and internal links will help you rank better on Google. You should build a well-strategized internal link architecture. But make sure that the page you are linking to is relevant or else Google will penalize you.
7. Limit Advertisements
Although advertisements produce regular income, if you want readers to engage and like your page then you must restrict advertisements. Online pop-ups, banner ads, advertising videos are not a big NO. They distract the readers.
8. Customer Service and Support
The users who are on your page may have queries or may need some manner of guidance. Make sure you give them good customer support options. And providing more than one options like chat support, calling and email support brings more happy users.
9. Reviews and Testimonials
If your clients loved your products or services, display it on your website. This helps in developing trust in new users and it also helps in retaining the old ones.
10. Page loading speed
No one prefers to wait for a page to load. With the number of available alternatives available on the internet, you have to make your website speedy to stay ahead of the game.
STZ Soft is the best website designing companies and we make sure that you have the best quality website in the market. Reach us to know more!