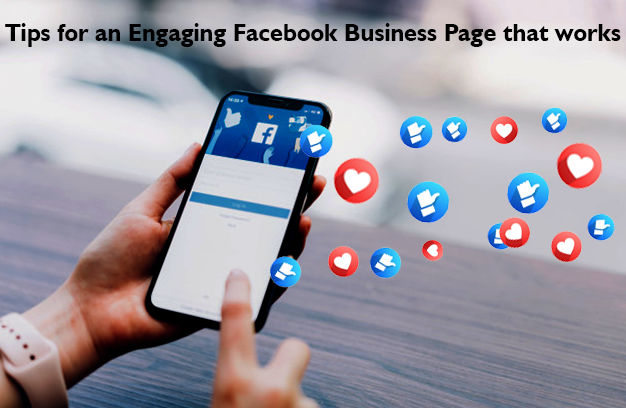 Tips for an Engaging Facebook Business Page that works
It has been years and Facebook is still one of the most used social media platforms. It is ruling the lives of each and every individual. According to Statista, Facebook as of 2019 has 2.45 billion users all over the world. This staggering figures makes the business owners wary of the importance of the platform and are trying to bring more clients by engaging with them on Facebook.
But not many know the tricks to do so. There are many ways to attract audiences through Facebook apart from using paid ads. Below are some of the best marketing strategies to increase traffic on your Facebook business page.
1.      Always create a Facebook Page rather than using your personal profile
If you have created a personal profile for your business then you are at a big disadvantage. It is a big NO. The Facebook business page offers multiple content creation tools, paid opportunities, and analytics/insights. A business page does not restrict your clients like a personal page (A personal page requires people to send friend request thereby restricting them in accessing your page at full potential).
Also, do not create another professional page linked to your business page. It does not work well with the terms of service of Facebook.
2.      Add a relevant profile picture and engaging cover photo
Your profile picture on the Facebook business page must be recognizable to your brand. For example, it can be your company logo.
The cover photo takes most of your space on the page. It needs to be appealing and the quality of the image should also be high.
It is also essential to keep updated with the updates of Facebook as it frequently changes the dimensions of the picture.
3.      Choosing your Call-To-Action button
Facebook business gives customizable call-to-action buttons such as "Watch Video", "Sign Up" or "Book Now". You can put the destination URL or any content on the buttons.
Call-to-action buttons are one of the most effective ways of driving traffic to your website from your Facebook business page.
With the help of call-to-action buttons, you can also choose which type of CTA you want to create and where you want to direct your visitors to. Facebook also provides insights on the number of clicks you are getting on the drop-down arrow called "View Insights".
4.      Put engaging content in your about section.
Like the 'About Us' page on websites are important, about us pages on Facebook business groups are equally important. Your 'About' page must contain a short description of your company. Also in the 'About' section, you will find options like 'Milestones' which should be populated with noteworthy milestones of your company.
5.      Post photos and videos regularly on your timeline.
Some of the most engaging content on Facebook are images and videos. It brings more traffic and people can see that you are up-to-date in your field. Make sure that your content is appealing and has call-to-action buttons where-ever applicable. Post content that brings value to the customer so that they are hooked to your page and return to find more.
6.      Test your timing
Facebook Insights offers many tools that can help your business grow. One of the most important ones of them is to find the best time to post your content. It shows when your followers are online and what types of posts attract more engagement. Experiment with your timings and find out the best suited time for your posts.
Launched in 2014, the Facebook business page has many updates and will have many more in the future. It is sensible to hire an agency that understands Facebook's algorithm. The MMIT provides Digital marketing services in Mumbai which also includes Facebook marketing. Reach us today to find the key to success.