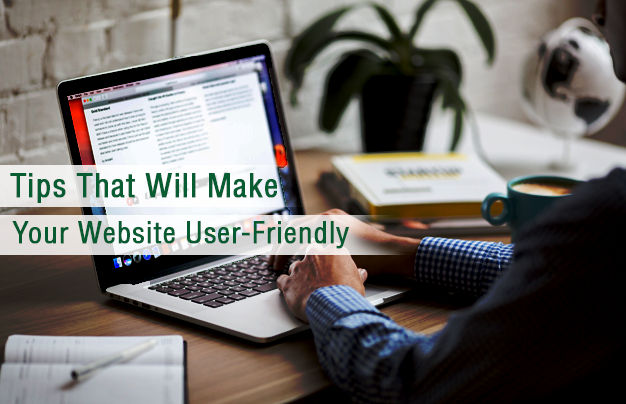 Tips That Will Make Your Website User-Friendly
Increasing user-engagement on websites is a necessity for businesses nowadays. Some of the best web development services states that a website should be user-friendly so that the users do not lose interest while surfing on it. A website with flaws and feeble interface will make the users jump to other sites.
All your products and services must be easily accessible from your website. A well-developed website must be functional, contain relevant and useful content and must also be exceptional in terms of user experience.
What will make your website more user-friendly? In this post, we will share some insights which will answer your queries.
1. Simplify the navigation of your website
Your website should contain a main menu that is easily accessible. The main menu is where users find the information they are looking for. The essential pages must always appear on the prime menu. Including a search bar in the main menu also helps the visitors to search easily. Adding multiple layers in your main menu causes complexities which any user does not want to endure.
2. Make your site mobile friendly
The number of smartphone users is growing day by day. Google also favors mobile devices rather than desktop computers. If your site is not optimized for mobile devices than fewer people will return to your site. With smaller screens in the mobile devices, buttons, tabs, and images must optimize efficiently.
3. Test your website on different browsers
With the number of browsers people are using in the market, it has become crucial to make your website compatible with all the popular browsers. It is prudent to keep the website up to date with the freshest versions of the browsers. Impediment like your site is not loading properly due to Flash or taking too much time on a certain browser will frustrate the user. Hence, test your website on multiple browsers like Chrome, Safari, Opera, etc. on both mobile as well as desktop devices.
4. Catchy Call-To-Action buttons
Having call-to-action buttons is a necessity. But to make the site more engaging, make your call-to-action more enticing. Users should not wonder what these buttons will do. Make them simple and self-explanatory but appealing enough to lure users. Some of the examples are – Download Now, Click here to Order, Learn more, Read more, Contact us, etc.
5. Customer Support Using Chatbot
One of the advantages of the advancements in technology is the use of Artificial Intelligence in website development. Chatbot has been widely used on websites for customer support. They are designed to elucidate the queries while users are on the site. Chatbot can answer questions regarding the services, products, etc. on your website. They can also be used to engage and encourage users into buying your products and services.
6. Choose Color Scheme carefully
An equilibrium between clarity and beauty must be created to create the underlying visual theme of your website attractive. Your color palette gives a sense of your industry. A color scheme that does not strain the eyes of the users is an obligation.
7. Readable content and faster loading of the website
It is no mystery that the faster your website is, the more user-friendly it becomes. People in the 21st century do not like to wait. Ensure that there are no unwanted plugins that make your site slow. The content of your website should also be comfortable to read. Bullet points and appropriate headings in your content make your content appealing.
The process of making your website user-friendly does not stop at the above points. It is a continuous process. The MMIT is a one-stop destination for all your website development needs. Reach your website goals by choosing us as we provide the best web development services in Mumbai, India.