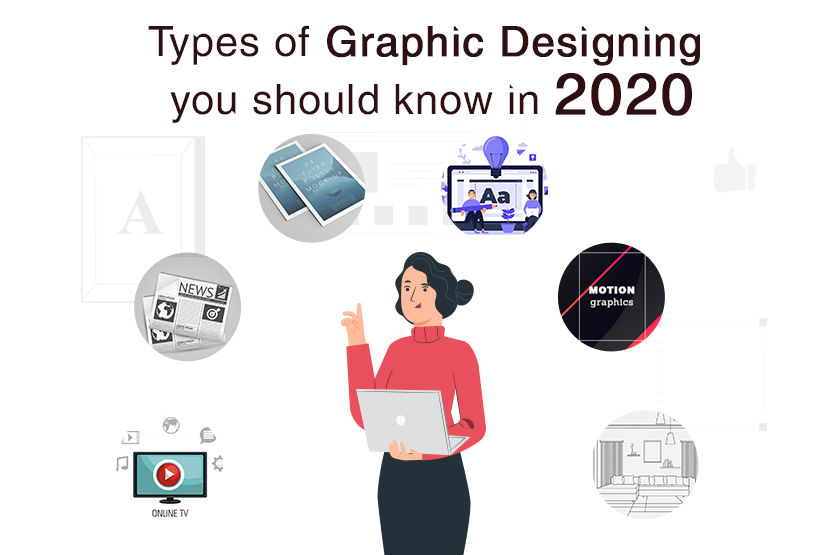 Types of Graphic Designing you should know in 2020
Visual effects on websites, applications, and printed Media are one of the driving forces of a thriving business. Graphics communicate visually with the audiences. Graphic designing although it seems a simple term, consists of a mixture of mediums. With the help of advanced technological tools, we humans are doing our best to bring the beauties of nature digitally in our day to day life.
We have categorized graphic designing in 6 categories shown below.
1.      Advertising Graphic Design
For the advertisements of products and services, a visual network is created and this is called advertising design. Advertisements are present everywhere around us. We see them on billboards, transports, television, wall paintings, etc.
Creating compelling designs for advertisements is an influential marketing strategy. A good visual ad appeals to the clients and engages them based on their wants, needs, awareness, and satisfaction. They are eager to inquire more about your products and services after seeing beautiful ads. Graphic designers need excellent communication skills along with designing skills to understand how a potential customer thinks when creating an ad.
2.      Corporate Designs
A business needs a graphic designer regardless of their niche. Corporate designs are bifurcated into two broad terms: Design and Strategy. A graphic designer has to design art that must be memorable and also plan a strategy to increase brand value. One of the examples of Corporate designs is logo designing.
Logo: Before starting a company, it needs a logo for itself so that people can identify their business. A well-planned logo increases the brand value of the company and attracts clients.
3.      Publication Graphic Design
Books, Magazines, newspapers, etc. come under the category of traditional print medium – Publication Design. Traditional elements of art such as color, typography, and space are used in publication design. E-books, email newsletters, magazine layouts are also included in this category as a digital publication medium. Graphic designers in this category are experts in layouts and possess exceptional organizational skills. They understand color management and create appealing visuals.
4.      Web Design
Web page layouts, editing and enhancing images and deciding the best typography for a website are included in website graphic designing. It is closely related to UI and UX designing and aims in creating an interface that balances the aesthetic appeals on the front end. Some tools also provide drag and drop facilities for website building but it is always wiser to hire a professional graphic designer for the best results. A good website has the potential to become your digital salesperson and can increase your sales effectively.
5.      Motion Design
Motion designing is a new trend that is becoming favorites in the market amongst the users and graphic designers alike. Motion designing includes animation, audio, typography, imagery, video and other effects. Technological advancements have helped in bringing motion designing at reduced costs making the art more affordable and accessible. Some of the examples of Motion designing are presentations, applications, animated logos, video games, etc.
6.      Environmental Graphic Designs
To make spaces around us more memorable, interesting and informative; graphic designers are making the environment around us more attractive. Museum exhibitions, concerts, theatres, and stadiums are some of the examples where this type of graphic design comes into place. Such types of graphic designers are experts in both the designing part and architectural part to blend both of them effectively and give extra-ordinary results.
Graphic design is one of the most creative fields and it is growing rapidly. It is essential to look for the ideal agency who can fulfill all your graphical needs. The MMIT is one of the best graphic designing agency in Mumbai. Get the quote today.