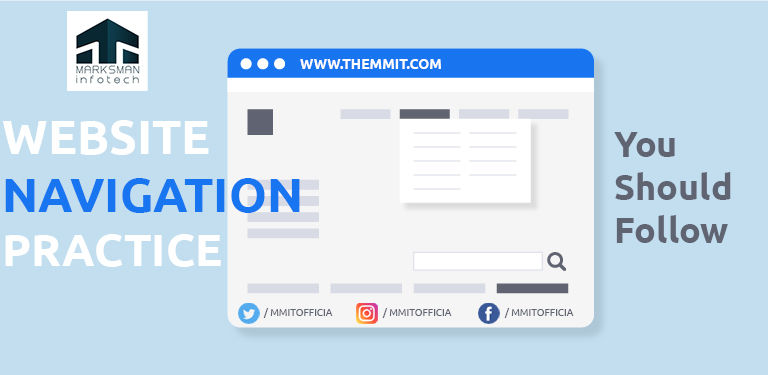 What are the Best Website Navigation Practices you should follow?
Websites are for the users who want to know more about your company without having to travel to the campus. Your website should be able to guide the visitors seamlessly and with ease. One of the important aspects of a great website is to have effective navigation.
Navigation of website greatly depends on the menus of the websites. There are different types of menus that can be used. They are as follows:
Classic navigation menu
Sticky menu
Hamburger menu
Dropdown menu
Sidebar menu
But along with the menus, you should look at the other aspects of website navigation while developing the website. In this blog, we have come up with a guide to help you understand the navigation tricks and techniques.
1. Plan your navigation
Spontaneity does not do well when you are developing a website. You should clarify which features and pages your website will require. Do you need an "About Us" page, a blog or an FAQ (Frequently Asked Questions)? A sitemap will help you in the planning.
2. Prioritize your pages
It is important to decide the hierarchy if you want your visitors to land on the pages you want them to. The first page and the last page attracts more audience hence you should place your high priority pages there.
3. Stick to Conventions
Sometimes to create an extraordinary design, we tend to go over the top and create a design that does not work. Instead, you should stick to the basic designs like placing the menu in the top corner of the header of the website.
4. Sticky menus
Sticky menus are also called fixed menus or floating menus and they stay put even as visitors scroll down your site. "Back to Top" button is also useful here as it saves the time of the user.
5. Limiting your menu
Your visitors should stay focused when they are on your website. Your menu should have minimum information and a maximum of six to seven categories. The users will be able to navigate the pages better and won't be easily distracted.
6. Mega Dropdown menus
Yes, we just said that to have minimum content in your menus. But if your website has tons of content then it is better to have a mega menu. They offer large lists or panels and are similar to a classic navigation menu with a whole array of options. This will help you if you have an e-commerce website because thousands of products need categories and orderly browsing.
7. Search Bar
One of the tricks you can use if you have a heavy content website is that you can add a search bar. Your audience wants a seamless experience and they do not like waiting. A search bar will be more or less similar to a menu in terms of placement. It needs to be at the top of the website.
8. Labeling your menu
You have decided where you will place your menu. You have also decided what to include in your menu. Now it is time to decide how to label your menu. You need a good microcopy so that users will quickly understand what you are talking about.
9. Link the logo back to the homepage
One of the common mistakes that developers do is to not linking the logos of the website back to the home page. It is one of the conventions for developing a website.
Bonus Tip: Most of the web development companies in Mumbai always have one trick up their sleeves and so do we. We always ensure that the visitors can reach any page from any page of the website. The MMIT is the best in the business. Reach us to know more.