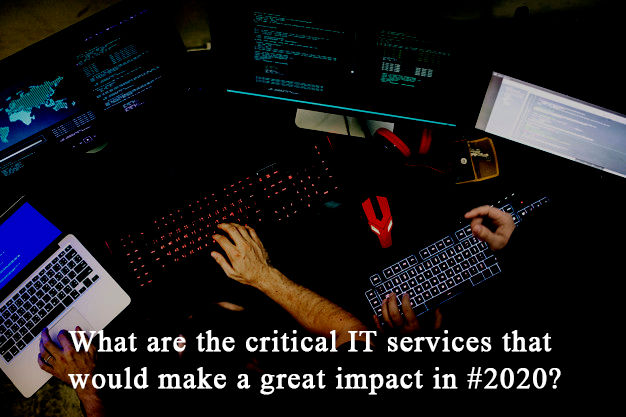 What are the critical IT services that would make a great impact in #2020?
IT services provide rock-solid support in any business. In the 21st century, technology is producing new developments every day and it becomes necessary for businesses to hire IT support for their business.
IT support service providers offer the technical support necessary for the smooth working of firms, both in management and everyday operations. They build, maintain, update, and provide services to your software, hardware, and systems.
Maintaining a dedicated IT team in-house can be expensive hence it is wiser to outsource your IT needs. Understand your business infrastructure to know your IT needs. We have covered in this article the different types of IT services a company can provide.
IT companies offer the following services:
1. Provides Data services
Information technology (IT) service providers provide data services like data storing and data managing through databases. It includes things like client information, employee information, sales, and finances of the company. Data management services are a must to ensure the security of data of the company. A compliance and secure data management results in better performance of data-driven applications like booking services, product details in e-commerce websites, etc.
2. Solving IT problems
IT specialists resolve all the IT-related issues faced by the employees. Troubleshooting in computers to printer issues, the IT team is capable of resolving all the problems when it comes to hardware and software.
A workplace of any business consists of laptops, printers, servers, workstations, etc. Maintaining these devices requires the services of an expert. The need for a skilled professional also arises when there is a breakdown or hardware loss. If not handled with caution, it can have a severe impact on the business.
Many companies buy different software from third-party vendors and these software are an asset to the company. Software asset management (SAM) is the main focus of IT service providers. They keep track of software licenses, end-user agreements, etc and help in eliminating unnecessary expenses.
3. Networking services
Internet is a must for any business and even a minute of shut down of the server or internet can cause impacting losses to the business. IT service providers form network connections between computers and other devices within an organization. They monitor the network to ensure that it's up and running smoothly. They look after the complexities of network security along with safeguarding the network. Apart from network management services, some IT service providers also provide preliminary setup services for businesses.
4. Consulting
Assisting the clients with everyday activities like establishing new connections, troubleshooting, installation, and upgrading software through interaction on-site and off-site interaction are some of the benefits of hiring an IT service provider. Their consultancy services help in the smooth working of the business. From infrastructure designing of the IT systems to helping challenges faced in hardware and software, IT experts must be consulted beforehand for better results.
5. Cyber – Security
Due to the burst of the Internet over the years, it has become extremely necessary to implement cybersecurity in every company. It is a domain that is constantly developing and serves companies in securing themselves and also their clients. It is of utmost importance that apart from IT service providers, all the employees of the company and their clients do their respective part in securing the network. Some also offer antivirus protection along with online security.
6. Backup and Recovery Solutions
Apart from all the above services, the IT service providers also offer backups and recovery options in case of disaster. It may be due to natural calamity or human error. Not having a backup of all the data can ultimately destroy any business.
Not limited to only the above services, IT services are an indispensable part of your business and outsourcing your IT needs will prove to be a practical decision. The MMIT is one of the best IT service providers in Mumbai and with our experienced team, we help businesses achieve great heights by providing innovative solutions.