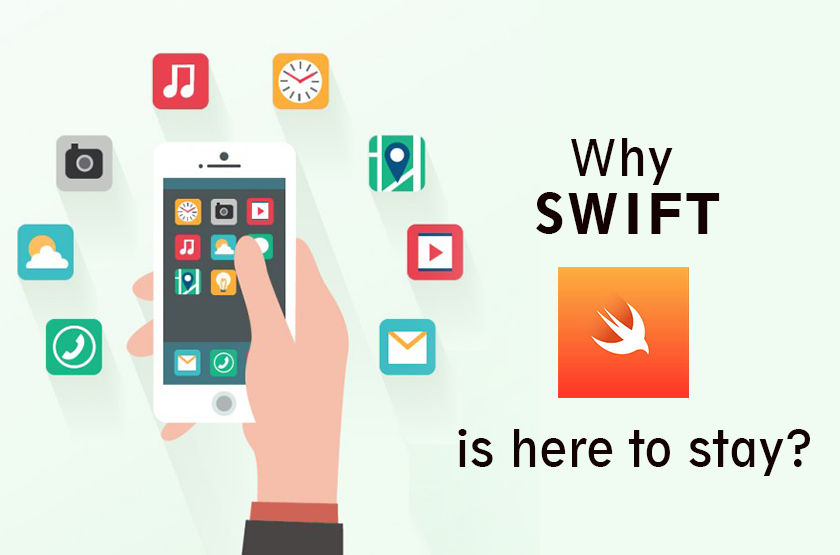 Why SWIFT is here to stay in mobile application development?
There are majorly two types of mobile devices popularly used. They are Android and iOS devices. Many programming languages have been developed for both of them. But some are still popular with mobile app development companies in Mumbai and Dubai due to their numerous advantages. Like Android has Java and Kotlin, iOS has Swift. Launched by Apple in 2014, Swift became widely popular. It is also known as 'Objective-C without C'. The reason is that for many years, Objective-C ruled the development of iOS apps and was the primary language.
In this blog, we will explain why swift is one of the best programming languages in the market for iOS.
What is Swift?
Swift is a compiled programming language for operating systems like macOS, iOS, watchOS, and tvOS. On the 10th of September 2019, Swift 5.1 was released.
Why should Swift be used?
Apart from having the potential to develop responsive, feature-rich iOS apps, Swift is also one of the fastest and safest programming languages.
Open Source: A technology that is open for all always draws more audience and popularity. Within 3 years of its existence, Swift became a defining programming language with an abundance of third-party tools.
Safe: Swift helps in writing clean and consistent code. Swift takes strict measures and because of it errors are prevented and this also enhances the readability of the program.
Fast: Apple created swift with keeping performance in mind. Its simple syntax helps in faster development. As stated by Apply, Swift is 2.6x times faster than Objective-C and 8.4x times faster than Python.
Advantages of using Swift for iOS Native Development:
From the business perspective, Swift's development capabilities are far better than the traditional Objective-C. Below are some of the pointers explaining the same.
1. Rapid Development process
Swift, as explained earlier, is an expressive language with simple syntax and grammar. It is easier to read and write. Swift takes less time to build iOS apps and also requires less coding due to its concise nature.
2. Easier to scale the product and the team
One of the advantages of using Swift in your development is that you can easily add or remove features without any hassle. This makes your product future-proof. Even Apple prefers Swift over Objective-C due to its scalability. The code is easily transferable to new coders due to its simple readability.
3. Decreased memory footprint
Building an app means using lots of third-party code like reusable and open source frameworks or libraries. Some are static and some are dynamic. The problem with static libraries is that once it is locked into your code, it becomes part of your executable file. This increases the size of the app and its loading time. In the latest version of Swift, stable Application Binary Interface (ABI) was released thereby allowing Apple to provide support of Swift across all its platforms. This signifies that standard swift libraries are integrated into every Apple devices making the size of the applications smaller.
4. Automatic memory management
One of the technologies used by swift is ARC i.e. Automatic Memory management. It is a type of garbage collector function used to delete class instances that are not used. It is used to decrease the memory footprint and assists in the performance of your application without lagging the CPU.
As milder as developing can get, Swift is one of the futuristic languages and it will enhance the iOS Application Development process for many years to come. It is no doubt a modern language.
The MMIT is one of the leading mobile app development companies in Mumbai. We expertise in all types of mobile applications. Contact us today to rule the smartphone world.